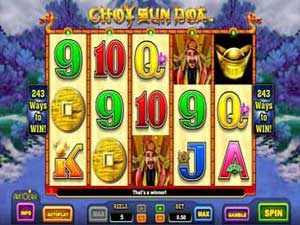 Choy Sun Doa Pokie is a very popular pokie game that was created by the major software developer Aristocrat. When a chance to play Choy Sun Doa Pokie presents itself, many flock to their local clubs, casinos and bar to play it. However there has quite a buzz with the release of the online version of this game.  Choy Sun Doa online Pokie offers gamblers a high level of excitement and a high pay out rates.
Game Symbols, Graphics and Sounds
Choy Sun Doa Pokie offers a very simple interface that is easy to use and provides a clear gaming experience.  If you have played this game in a casino there will be no surprises switching to the online version.
The usual King, queen, jack, ten and nine that are usually present in most of Aristocrat's games are also present In online Choy Sun Doa Pokie. However, even the standard cards have been changed a little to match the theme of the game.
Specific to Choy Sun Doa Pokie machine, the symbols for a Dragon's head, purple flower, gold coin, gold hat, coy carp, red envelop sealed with money and a man dressed in traditional clothes are used to represent the pokie symbols.
These symbols do well to complement the theme. The sounds in Choy Sun Doa Pokie are also true to the theme.
Main Bonus Features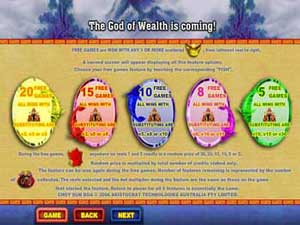 As with many of aristocrat slot games, there is always a bonus trigger, which when activated, starts a bonus round which can consist of many things such as free spins. In Choy Sun Doa, once three golden hats are shown on the active screen, the bonus spins become active. The player has a choice to choose between ten, fifteen, twenty and twenty five free games.
Regardless of how many free games are chosen, the bonus multiplier stays a mystery until a free game option is selected.
Choy Sun Doa Pokie is a game that has stood out from the crowed because it offers large jackpots. The jackpot values associated with this game are some of the highest jackpot vales that you will ever see. The high payout rate of Choy Sun Doa further increases the pull this game has on gamblers.
Regardless of whether you are a beginner or a seasoned player, Choy Sun Doa Pokie is a great game for anyone to play. Choy Sun Doa Pokie comprises of mystery elements fuse with high payouts to create a game which compels players to keep playing.  If you are looking to play this game you can play download free for real money or in free play mode.